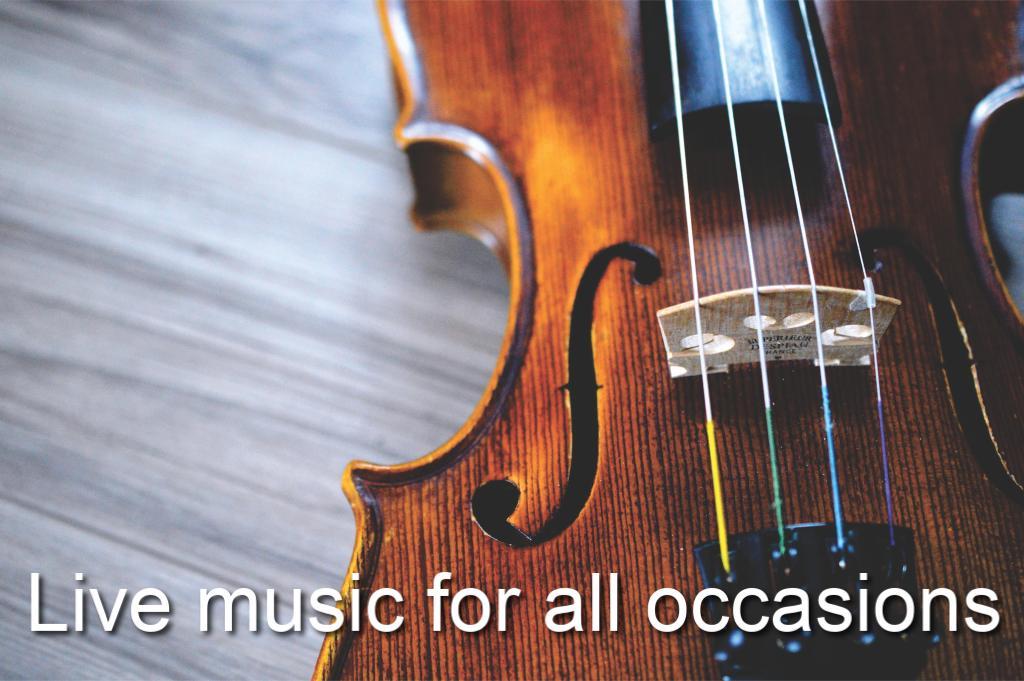 About us
We are a vibrant and professional string quartet based in Dorset specialising in performing at weddings, private parties and corporate events. Our players are highly experienced musicians and together offer a bespoke, personal service to suit your individual requirements. We play a wide range of music from classical to modern pop. If there is a particular piece that means a lot to you, we will do our utmost to find so our live music gives that personal touch to your day.
Our music

We have a wide range of music to suit all tastes, from traditional classical, favourite show tunes to up-to-the-minute modern pop. If there is a particular piece that you want which we don't have, we will do everything we can to find it to ensure your day is made that extra bit special. We also offer a bespoke service arranging music if we cannot find it elsewhere.
Light/modern pieces
A Million Dreams (The Greatest Showman)

A Moment Like This (Leona Lewis)

A Thousand Years (Christina Perri)

A Whole New World (Alan Menken)

All I Ask Of You (Phantom of the Opera)

All Of Me (John Legend)

All You Need Is Love (Beatles)

Amazing Just The Way You Are (Bruno Mars)

And I Love Her (Beatles)

Angels (Robbie Williams)

Annie's Song (John Denver)

Anniversary Waltz (Franklin)

Anything Goes (Porter)

At Last (Etta James)

Beneath Your Beautiful (Emeli Sande)

Best Day Of My Life (American Authors)

Beyond The Sea (Lawrence/Trenet)

Bill Bailey (Cannon)

Bittersweet Symphony (The Verve)

Bohemian Rhapsody (Queen)

Bridge over Troubled Water (Simon)

Brown Eyed Girl (Van Morrison)

Calico Skies (McCartney)

Can I Have This Dance? (High School Musical 3)

Can You Feel The Love Tonight (Elton John)

Candle In The Wind (Elton John)

Can't Help Falling In Love With You (Elvis)

Can't Take My Eyes Off Of You (Frankie Valli)

Chandalier (Sia)

Chasing Cars (Snow Patrol)

Chi Mai (Morricone)

Clocks (Coldplay)

Close To You (Bacharach)

Come Away With Me (Norah Jones)

Come On Eileen (Dexy's Midnight Runners)

Concerning Hobbits (Lord of the Rings)

Country Club (Joplin)

Country Gardens (Grainger)

Crazy In Love (Beyonce)

Diamonds (Rihanna)

Dixie (Emmett)

Don't Cry for me Argentina (Lloyd Webber)

Don't Stop Believing (Journey)

Eleanor Rigby (Beatles)

Embraceable You (Gershwin)

Empty Chairs At Empty Tables (Les Miserables)

Everybody Needs Somebody To Love (Blues Brothers)

Everlasting Love (Buzz Cason)

Everything (Michael Buble)

(Everything I Do) I Do It For You (Michael Kamen)

Fields Of Gold (Sting)

First Time I Ever Saw Your Face (Roberto Flack)

Fix You (Coldplay)

Fly Me To The Moon (Frank Sinatra)

Forrest Gump Feather Theme

From Here To The Moon And Back (Dolly Parton)

From Now On (The Greatest Showman)

Get Lucky (Daft Punk)

Girl With The Flaxen Hair (Debussy)

God Only Knows (Beach Boys)

Golden Earth Girl (McCartney)

Good Vibrations (Beach Boys)

Greatest Day (Take That)

Hallelujah (Leonard Cohen)

Halo (Beyonce)

Happy Birthday (Hill)

Harry Potter theme tune

Have I Told You Lately (Van Morrison)

Here Comes The Sun (The Beatles)

Here, There, Everywhere (The Beatles)

Hideaway/Light My Fire (Johnson Brothers/The Doors Hernandos)

Highway To Hell (ACDC)

Holiday (Green Day)

Honour Him (Gladiator)

House of Fun (Madness)

How Deep Is Your Love (Bee Gees)

How Long Will I Love You (Ellie Goulding)

How Sweet It Is To Be Loved By You (James Taylor)

I Could Have Danced All Night (My Fair Lady)

I Do Like To Be Beside The Seaside (Glover-Kind)

I Don't Know How To Love Him (Jesus Christ Superstar)

I Don't Want To Miss A Thing (Aerosmith)

I Dreamed A Dream (Schonberg)

If You Leave Me Now (Chicago)

I Get A Kick Out Of You (Porter)

I Got Rhythm (Gershwin )

I Know Him So Well (Andersson)

I Love The Way You Love Me (Boyzone)

I'm Yours (Jason Mraz)

Iris (Goo Goo Girls)

Isn't She Lovely (Stevie Wonder)

I See The Light (Disney Tangled)

It Had To Be You (Frank Sinatra)

It Must Be Love (Madness)
It's A Beautiful Day (Buble)

It's All About You (McFly)

I Want To Hold Your Hand (The Beatles)

Jeeves and Wooster theme tune

Jurassic Park theme tune

Just One Of Those Things (Porter)

Just The Way You Are (Joel)

Killarney; Cockles and Mussels; The Harp That Once Through Tara's Halls; The Girl I Left Behind Me; Londonderry Air; The Irish Washerwoman; The Wild Rover; The Minstrel Boy; Irish Sherry arr Bill Thorpe (Irish music)

Killer Queen (Queen)

Kiss Me (Ed Sheran)

Kissing You (Des'ree)

La Bamba (trad Mexican)

La Paloma (traditional)

Leaning On A Lamppost (Gay)

Let It Go from Frozen (Disney)

Let's Do It (Porter)

Living On A Prayer (Bon Jovi)

Love and Marriage

Love Is All Around (Wet Wet Wet)

Love Is Here To Stay (Gershwin)

Lovely Day (Bill Withers)

Love Me Do (Beatles)

Love Me Like You Do (Ellie Goulding)

Love Me Tender (Elvis)

Love On Top (Beyoncé)

Love Story (Taylor Swift)

Magic Moments (Burt Bacharach)

Make You Feel My Love (Adele)

Makin' Whoopee (Donaldson)

Mamma Mia (Abba)

Married Life (from the film Up)

Marry Me (Bruno Mars)

Mexican Hat Dance (traditional)

Moon River (Henry Mancini)

Moonlight and Roses (Lemare)

Muppet show theme (Henson)

Music To Watch Girls By (Andy Williams)

My Favourite Things (Sound of Music)

My Funny Valentine (Rodgers)

My Girl (Robinson)

My Love (McCartney)

Neutron Star Collision (Muse)

Never Tear Us Apart (INXS)

Never Enough (The Greatest Showman)

Next To Me (Emelie Sande)

Night and Day (Porter)

No Place I'd Rather Be (Clean Bandit)

No Time To Die (Billy Eilish)

O Sole Mio (di Capua)

One (U2)

On The Street Where You Live (Frederick Loewe)

One Day Like This (Elbow)

Only Human (Rag and Bone Man)

Only You (Yazoo)

Paperback Writer (Beatles)

Paradise (Coldplay)

Paragon Rag (Joplin)

Perfect (Ed Sheeran)
Light/modern pieces (con.)
Perfect Day (Reed)

Portuguese Love Theme from Love Actually (Craig Armstrong)

Pretty Woman (Roy Orbison)

Raindrops Keep Falling (Bacharach)

Rolling In The Deep (Adele)

Royals (Lorde)

Rule The World (Take That)

Running Up That Hill (Kate Bush)

Shallow (Lady Gaga)

She (Charles Aznavour)

She's Always A Woman (Billy Joel)

Shine (Take That)

Signed Sealed Delivered (Stevie Wonder)

Sir Duke (Stevie Wonder)

Skaters (Waldteufel)

Skyfall (Adele)

Sky Full Of Stars (Coldplay)

Smile (Charlie Chaplin)

Smoke Gets In Your Eyes (The Platters)

Solitaire (Sedaka)

Somebody to Love (Queen)

Someone Like You (Adele)

Someone To Watch Over Me (Gershwin)

Somewhere Only We Know (Keane)

Somewhere Over The Rainbow (Arlen)

Somewhere Over The Rainbow (Israel Kamakawiwo'ole)

Somewhere, Tonight (West Side Story)

Songbird (Christine McVie)

Songs From A Secret Garden (Rolf Lovland)

Stand By Me (Ben E King)

Star Wars Throne Room theme (John Williams)

Sugar We're Goin' Down (Fall Out Boy)

Summertime (Gershwin)

Sway (Cherry Pink)

Sweet Child O'Mine (Guns N Roses)

Sweet Disposition (Temper Trap)

S'Wonderful (Gershwin)

Take Me To The Church

Take The A Train (Billy Strayhorn)

Tale as Old As Time (Disney Beauty and the Beast)

That's Amore (Harry Warren)

The Entertainer (Joplin)

The Girl From Impanema (Antonio Carlos Jobim)

The Man I love (Gershwin)

The Middle (Jimmy Eat World)

The Music Of The Night from Phantom

The One (Kodaline)

The Rose (Bette Midler)

Theme from Schindler's List (Williams)

Thinking Out Loud (Ed Sheeran)

This Is Me (The Greatest Showman)

This Will Be (An Everlasting Love) (Natalie Cole)

Three Little Maids from School (Sullivan)

Time Of My Life (Dirty Dancing)

True Colours (Cindy Harper)

Truly, Madly, Deeply (Savage Garden)

UEFA Champions League Theme

Unchained Melody (North/Zaret)

Unconditionally (Katy Perry)

Unforgettable (Nat King Cole)

Use Somebody (Kings Of Leon)

Viva La Vida (Coldplay)

We Don't Talk About Bruno (Encanto)

We Found Love (Rihanna)

We Have All The Time In The World

What Is This Thing Called Love? (Porter)

Whatever (Oasis)

When I Fall In Love (Nat King Cole)

When I'm 64 (Beatles)

When You Say Nothing At All (Ronan Keating)

White Wedding (Billy Idol)

Wildest Dreams (Bridgerton)

Williams Cavatina from the Deer Hunter

Wonderwall (Oasis)

Writing's On The Wall (Sam Smith)

Yellow (Coldplay)

Yesterday (Beatles)

You And Me (Lifehouse)

You And You Alone (Delta Goodrem)

You Are So Beautiful (Cocker)

You Are The Reason (Callum Scott)

You Got A Friend In Me (Toy Story)

You Raise Me Up (Graham and Lovland)

Your Love Keeps Lifting Me Higher (Jackie Wilson)

Your Song (Elton John)

You're Beautiful (James Blunt)

Yradier Cielito Lindo
Classical music
Bach Air on a G String

Bach Brandenburg Concerto No 3 First and Third Mvt

Bach Gigue from Suite no 3

Bach Jesu Joy of Man's Desiring

Bach Prelude from English Suite no 3

Bach Suite no 3

Barber Adagio

Beethoven Adagio Sostenuto from moonlight Sonata

Beethoven European Anthem (from 9th Symphony)

Beethoven Fur Elise

Bizet Toreador's song from Carmen

Boccherini Minuet

Chopin Prelude in E Minor

Corelli Concerto Grosso no 8 (Christmas)

Delibes Flower Duet from Lakme

Dvorak Humoresque

Elgar Chanson de Matin

Elgar Chanson de niut

Elgar Salut d'amour

Faure Berceuse from Dolly Suite

Faure Pavane

Gounod Ave Maria

Grieg Morning from Peer Gynt

Grieg Wedding day at Troldhaugen

Handel All We Like Sheep from the Messiah

Handel Arrival of the Queen of Sheba

Handel Five pieces from Music for the Royal Fireworks

Handel Hornpipe from Water Music, Bourree

Handel Largo

Handel Sarabande with variations

Handel Water Music Suite in D – Overture

Haydn Serenade

J C Bach Andante

Jenkins Palladio

Massenet Meditation from Thais

McEwen Danse Basse

Mendelssohn Wedding March

Mozart Wedding Procession from marriage of Figaro

Pachelbel Canon

Puccini Nessun Dorma

Puccini O Mio Babino Caro

Purcell 2 Rondeaux from Abdelazar and the Fairy Queen

Purcell Trumpet Tune

Ravel Bolero

Rubenstein Melody in F

Satie Gymnopedie no 1

Strauss Artist's Life

Strauss Emperor Waltz

Strauss Tales from Vienna Woods

Strauss The Blue Danube

Strauss Wiener Blut

Strauss Wine, Women and Song

trad Greensleeves

Vivaldi Spring

Vivaldi Winter 2

Wagner Bridal Chorus
Listen to us
We are proud to be the official string quartet and a partner of the fabulous wedding venue Parley Manor at Hurn, Bournemouth. Click on the link below to see us playing at one of their open days.
Alice Metcalfe grew up in Bournemouth where she was a member of the Bournemouth and Dorset Youth Orchestras. She studied violin at the Welsh College of Music and Drama and completed a Masters in baroque violin at York University. Now based in Wimborne, she is a violin and piano teacher and plays regularly with various string ensembles. Alice founded and runs The Minster String Quartet
Aidan Fisher was born near Bath. He studied composition, viola and conducting at the Royal College of Music. He was then appointed Composer - in - Residence at Charterhouse School. In 1985 he was working in London as a freelance viola player, teacher and also as a composer. He moved to Dorset in 1991, where he now teaches. He plays viola professionally with many local ensembles most notably with the Bournemouth Symphony Orchestra as an extra player.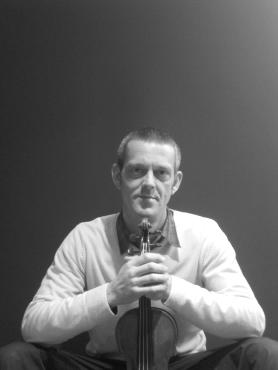 Piotr Kopec studied at Trinity College of Music in London, gaining an honours degree in violin performance. Piotr is a member of several string quartets and works with orchestras, choral societies, chamber groups, opera and in musical theatre. He has performed at hundreds of functions and weddings and recorded for various pop acts. With the Orion Trio he has performed on cruise ships around the world. He gives recitals and in recent years has performed all of the major violin concertos.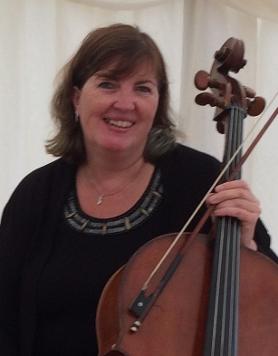 Kathy Jackson grew up locally and won a music scholarship at school and went on to study music at Exeter University. She has worked for a music publishers, as an orchestral librarian, and as manager of the BBC Radio 3 Music Library. Since having her three children she has retrained in IT and now works in education as well as teaching and playing the cello in various quartets and local ensembles. Kathy has has been playing in string quartets for weddings for over 20 years. She also enjoys arranging new songs for The Minster String Quartet.
What our couples say
Joe Green
Nicola and Robert Wray
Mr and Mrs Gray
Hollie & Rob Blofield
Melanie and Toby Jones
Kerry and George Cupit
Jodie and Nick Bloomfield
Phil and Vicky Lenthall
Stephanie Littlewood-Miller
Becky and Joe Kiddle
Fees
Our 2024 fee for weddings and other events is £570 for a standard 2-hour booking. Our 2025 fee is £600. This includes our travel time and costs within 20 miles of Bournemouth. We are happy to travel but may add extra expenses. Please provide us with a postcode and we can give you a quote. If you have any questions, or want to go ahead and book us, please doget in touch.
© Copyright The Minster String Quartet